McGowan Is Charmed to Step in for Doherty

By Michael Fleming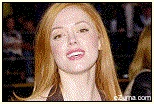 NEW YORK (Variety) - Actress Rose McGowan is negotiating to replace Shannen Doherty in Spelling Television's hit TV drama "Charmed" at the WB network.

Sources say the witching hour is nearing and, barring a last-minute implosion, McGowan will join Alyssa Milano and Holly Marie Combs as the third in a troika of sisters with mystical powers.

McGowan, former girlfriend of shock rocker Marilyn Manson, would play a long lost sibling the duo didn't know they had.

McGowan has starred in such films as the black comedy "Jawbreaker," "Scream" and "Ready to Rumble," and most recently starred with Kip Pardue and Robert Forster in the indie film "Rat in the Can." McGowan recently guest starred on the sitcom "What About Joan."

She will bring edginess to the WB's second-highest-rated show, which is exec produced by Aaron Spelling, E. Duke Vincent and Brad Kern.

The producers were faced with replacing Doherty after the former "Beverly Hills, 90210" star made her second hasty exit from a Spelling series.

Doherty, who directed the season finale, decided to seek other opportunities, and it seemed clear that Milano and Combs weren't unhappy Doherty left the coven.

The network wasn't commenting but acknowledged that talks were ongoing.

23:52 06-11-01
---
Doherty No Longer "Charmed"
by Mark Armstrong
May 13, 2001, 4:45 PM PT
It's déjà vu all over again for Aaron Spelling and Shannen Doherty.

Seven years after she was fired from Beverly Hills, 90210, Spelling Television has confirmed that Doherty is gone again--this time leaving the WB's witchy hit Charmed after three seasons, according to the Hollywood Reporter.
"We have had a long and prosperous relationship with Shannen and we didn't want to hold her back from what she wanted to do," Spelling Television said. "We wish her all the best and much continued success."
Charmed, starring Doherty, Alyssa Milano and Holly Marie Combs as supernatural sisters working together to fight evil, remains the Frog network's second highest-rated show, averaging 4.8 million viewers in its Thursday-night time slot.
But this season, the series has been plagued by rumors of on-set tensions, specifically between Milano and Doherty. The news comes after the 30-year-old actress just finished directing the show's season finale. (Ironically, Doherty and Combs acted as bridesmaids at Milano's 1998 wedding to rocker Cinjun Tate. The couple have since divorced.)
Said Doherty in a statement: "I have certainly enjoyed my time with Charmed, in particular the dedicated cast, crew and staff. I had the opportunity to create a character, learn and perform my own stunt work and direct three episodes of the show. At this time, I feel that I have accomplished everything I set out to do when I returned to series television.
"Thus, after three years and 66 successful episodes, the people at Spelling Entertainment and the WB were gracious enough to give me the chance to move on and pursue other endeavors," she said.
The WB is expected to have Charmed on its fall lineup when it's announced this week in New York. But Doherty's departure certainly throws a wrench into things story-wise: The show's founding premise, "The Power of Three," requires that all three sisters must come together to fight the bad guys.
This, however, should all sound oddly familiar. It was on-set tensions that allegedly led Doherty to part ways with Spelling the first time, from Beverly Hills, 90210 in 1994. The erstwhile Brenda Walsh cited "creative differences" with Spelling when she left Fox's hit show after four seasons, but others claimed it was diva-like behavior that led her costars to demand she be fired.
Spelling eventually welcomed her back with open arms, casting her in Charmed as Prue Halliwell, one of three sisters armed with magical powers.
It's already been a tough year for Doherty. Last month, the actress pleaded no contest to drunken-driving charges stemming from a December arrest in which her truck was pulled over for allegedly weaving across a Southern California highway.
She's due back in a Ventura County, California, courtroom June 12 for sentencing.
---
Discuss the show on the WWWBoard || E-Mail us || (old) homepage